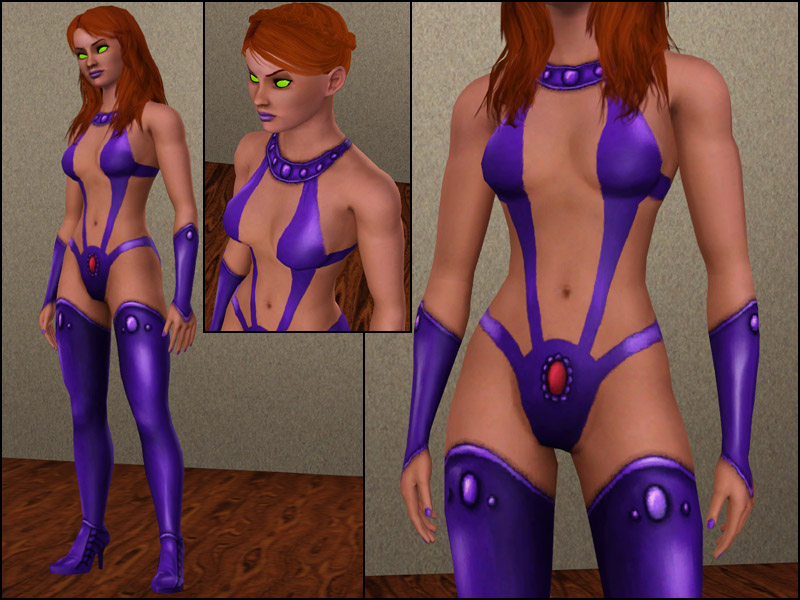 A Starfire costume for your superhero neighborhoods!
Important note:
The bodysuit is a re-texture of RoguePilot's "Lara Croft Bodyshape Mesh", which is NOT included.. so you'll have to download that in order for it to work. (The boots and gloves are made using EA meshes, so if you only want those, they should work fine without it.)
What's Included:
Sexy bodysuit
Gloves, complete with matching nail polish
High-heeled, thigh-high boots
What's NOT Included:
The model sim, which isn't really anything special anyway.
The custom mesh by RoguePilot, which can be found here on MTS.
The custom eyes the model is wearing, which can be found offsite here.
The bodysuit is available for young adult/adult/elder, under all clothing categories (since there's not much available for this mesh yet, i figured it makes more sense for her to swim and sleep in it than to change her bodyshape - however if you disagree you certainly don't have to use it for those activities). The gloves and boots are available for the same ages under everyday/formal/athletic only however, since sleeping in boots is a bit strange.
-> Everything is recolourable in CaS, including the highlights (which are set to a light purple by default), the main dark purple bits, and the red gem; so you can make her outfit bright pink if you want, or just make it more/less shiny..

-> The bodysuit, the gloves, and the boots are in seperate *.package files are all zipped into one *.rar file for your convenience. Just extract and throw them in your mods/packages folder, and don't forget to get the mesh! =]
Additional Credits:
Delphy for the CTU, Daluved1 for the tutorials, RoguePilot for the mesh, BlackJack19 for inadvertently giving me the idea to make this, and everyone in Creator Feedback for helping me fine-tune it.. ^.^